The following is a collection of sermon and prayer responses to our nation's two most recent mass shootings in El Paso, Texas, and Dayton, Ohio. We give thanks for the bold leadership of these pastors and the many others whose work isn't featured here. Until we reach a day in which these responses are unnecessary…
There are live links on most of the images and the sermon titles. Click through to watch or listen. Others have sent manuscripts, including the Rev. Matt Johnson and co-pastors, Rev. Holly Clark-Porter and Rev. Kaci Clark-Porter. These can be found at the bottom of the profiles.

The Revs. Clark-Porter began their ministry as co-pastors of Grace Presbyterian Church in El Paso, Texas, on August 4, the day following the shooting in their new city. One can only imagine the challenge of beginning their ministry in such a context. We're grateful for their leadership.
Profiles are listed in alphabetical order.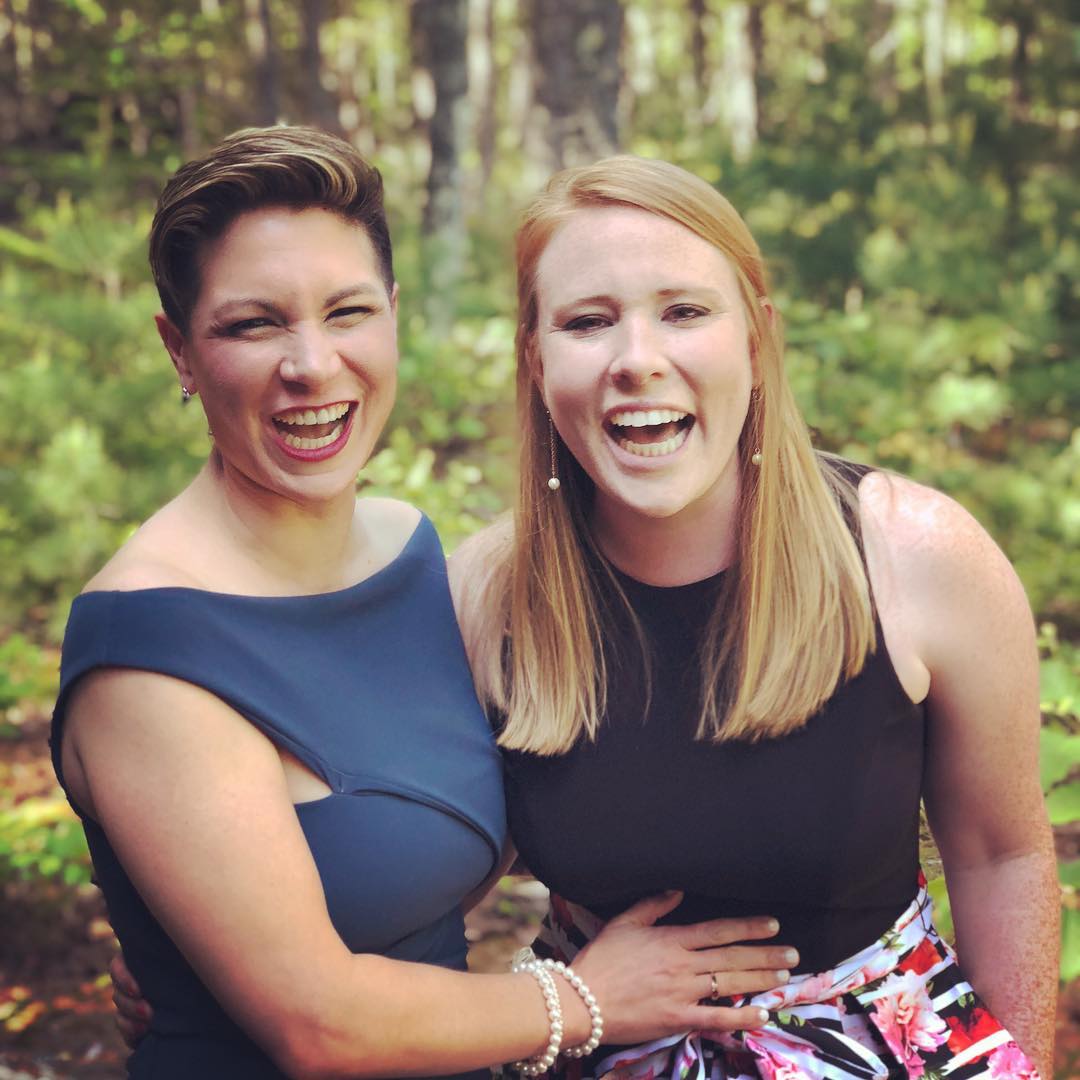 Revs. Holly Clark-Porter and Kaci Clark-Porter

Grace Presbyterian Church, El Paso, Texas

Sermon and Prayer can be found below
Rev. Matt Johnson

Fernwood Baptist Church, Spartanburg, South Carolina

Sermon excerpt can be found below
St. Paul United Methodist Church, Atlanta, Georgia

Prayers of the People can be found below
Sermon Excerpt - Rev. Matt Johnson
"After hearing the news yesterday that there were, not one, but two mass shootings in this country, it occurred to me that there are other things we keep stored in the barns of our lives. I own a gun, a shotgun that used to belong to my grandfather. But this disposition of ours to do absolutely nothing, indeed the defeatist attitude that we CAN do nothing, about the epidemic of gun violence in this country should reveal to us that we not only have too much stuff in our barns, we also have some dangerous things lurking in there.
Yesterday, I went out to my mailbox, took out a package, and found a black widow spider attached to the package. It's a good thing the package wasn't fragile, because it ended up half way across the yard. When I looked in the mailbox this morning, there was the little spider, her red dot as bright as death, waiting, it seemed, for me.
When we turn on the lights and push back the boxes in the barns of our hearts, what do we see? Do we see fear? Are we so afraid of the people around us that we think we have to store up protection against enemies at every turn? Do we find a lurking disposition towards white supremacy, the idea that people who don't look like me or act like me are a threat to both myself, my values, and my country? Do we find that, when we vote, we are motivated to look the other way about the suffering of others as long as we might personally benefit financially from the policies of the person we are voting for?
All of these are little spiders lurking in our barns. Their poison already entering our blood stream, indeed already infecting our national body. Let's get rid of them. Let's throw them out. Instead, how would we vote if we were committed to being peacemakers? What kinds of laws, policies, and programs would we support if we were committed to wholeness and forgiveness in our community? What good is it to store up treasures for ourselves, but not be rich towards God?"
Prayers of the People
Grace Presbyterian Church
Rev. Holly Clark-Porter
El Paso, Texas
God with us, we come to you today a people changed by violence. When O Lord will we be a culture changed by peace? When will we take seriously the work of this table, this bread, this juice? You commanded that we sit and eat together; it is that simple and yet that hard.
Embolden us with the Gospel message—a story overwhelmed by acts of selflessness, a story that upsets status quo, a story that gives us the strength to flip tables where greed is practiced, a story that invigorates our ability to observe and then to act upon the atrocities and injustices around us.
We pray for Ohio and those who died while enjoying friends, music, and dancing. We pray for our country obsessed with violence. We pray for our El Paso—a city of two nations and one heartbeat—a city that was violated by a man with an idea that was not born here but born of racism, born of the privilege of being born in the USA, born of hate. Help us rise up and show the country, the world just how a heart does beat—that our heart beats louder because we are stronger for the varied colors of our skin, for the inspiration we bring to one another, for the tables we sit at together.
Even as the world turns on it's TV and watches our city's grief, we thank you for good moments that are not being shown, for the lines and lines of people donating blood, for the tireless efforts of the police, for the medical teams, for the chaplains. We come to you giving thanks for new ministries, for this gathered community, for birthdays and fiestas, for wedding anniversaries, for visiting grandchildren, for rain, for the mountains, and for the ability to gather together today.
With all of this, let our hearts beat together.
Beat to the love.
Beat to the joy.
Beat to the courage.
Beat to the story.
Beat to the hope.
Beat to the help.
To beat to the change
you're calling us to be.
With one heart, all God's people said, Amen.
(Prayer written by Rev. Holly Clark-Porter, Co-Pastor, Grace Presbyterian Church, El Paso, Texas)
Sermon, Aug. 4, 2019 - Grace Presbyterian Church, El Paso, Texas
Rev. Holly Clark-Porter and Rev. Kaci Clark-Porter
Ecclesiastes 4

…11 Again, if two lie down together, they will keep warm; but how can one keep warm alone? 12 And though one may be overpowered, two can resist. Moreover, a three fold cord of strands is not quickly broken.
Hebrews 12:1-2
Therefore, since we are surrounded by so great a cloud of witnesses, let us also lay aside every weight and the sin that clings so closely, and let us run with perseverance the race that is set before us, 2 looking to Jesus the pioneer and perfecter of our faith, who for the sake of[ the joy that was set before him endured the cross, disregarding its shame, and has taken his seat at the right hand of the throne of God.
Kaci: So often our stories don't go as we had planned.
Holly: Many of you know that our move here has been wrought with some interesting moments. The house we bought—a house we bought without ever seeing it in person—had a gas leak and then we had a guy try to break into our house two nights in a row.
So, we had written a sermon about the comedy of errors on our move here.
Kaci: We wrote about our cat getting stuck for an hour in the box springs at a La Quinta somewhere in Virginia.
Holly: We wrote about our missing U-Haul and sneaking 4 pets into a two-pet motel.
The sermon we wrote for today also had a couple jokes making fun of Reese because well…it's Reese.
But, we are not preaching that sermon today because so often our stories do not go as we had planned.
Kaci: In the days and weeks before this moment, we had all planned on today literally being a fiesta. You have been planning on pounding us with salt, flour, and maybe some Velveeta and Rotel. And, we planned on soaking up the amazingness of our new congregation and giving our love right back at you!
Holly: And, then…real life and the real world interrupted our plans. Instead of today being simply a fiesta, we climb into this pulpit with the weight of tragedy, with violence and death on all of our minds.
But we are all in the right place regardless of what we had hoped for, for today. We are in the right place because we follow a God who does incredible work when the story doesn't go as planned. In fact, that might be when God does God's best work.
Kaci: Over and over, Scripture lifts up these kinds of moments and says love is stronger than what goes wrong. And it is Jesus' story, a story gone wrong in so many ways, that gives the final word on violence, on tragedy: that not even death can overcome God's love.
Holly: We understand that the Grace Before Work group has been studying Luke and that the group is about to get to Jesus's crucifixion. In Luke, leading up to the moments before his death, Jesus doesn't give out last minute commands or tell the disciples exactly what to do. Instead, over and over, he tells a parable—a seed that didn't belong, a Samaritan that Jesus called 'good,' a fig tree that needed to grow, a dinner party with the wrong guests. It was stories gone wrong, and Jesus needed the disciples to see where love found the darkness.
And, our text today from Hebrews is a story gone wrong as well.
They were a people exhausted from a faith that causes the outside world to hate them. And, perhaps worse, they are starting to lose their sense of perseverance.
So Paul implores them to lean in, to look up and see that they are not alone, to persevere. After all, they are surrounded by a great cloud of witnesses. They are a part of the three-fold cord and in that cord, they are held up by the people who have believed and gone before them. They are held up by Moses and Miriam, by David and Samuel, by Ruth and Naomi, the rainbow, the waters, the trees of the field, by loaves and fishes, by a sower and a seed, by good Samaritans, and by the confusion, passion, wisdom, doubt, and faith of the imperfect disciples who have gone before them.
Kaci: Well, that is how Holly and I feel today. That is how we felt the moment we got here when everything started going wrong and that is how we felt yesterday as the news broke about the shooting. In the midst of the weight of tragedy, we also felt the great cloud; we felt our past and our present pulling us closer into that threefold cord. I'm sure many of you felt that cord too as people called and texted asking you if you were okay.
Holly: Before yesterday, we chose the passage from Hebrews, because the moment we met the PNC and then the moment we got here, we knew something big was happening— and we could feel ourselves surrounded by our past churches, our friends, and our families, but we also are surrounded by the history of this church, the people who started, pastored and lead the three churches and then those who ushered in the birth of Grace. We know we are standing amongst beloved leaders like Jessica and Jen, who we heard nothing but good things of.
We are standing here surrounded by love and we cannot thank you enough. This past week you offered us home-cooked meals, pies and even a Corona or two; you offered to sit on our front porch all night long and wait for the bad guy; you texted, called, stopped by with words of welcome and yesterday you made sure we were okay. You have already been the light in the darkness for us and we hope you will allow us to do the same for you.
Kaci: On our six-day drive from Delaware to El Paso, we listened to several podcasts, one of which told a story of a man and his wife who went kayaking. Their simple river trip turned tragic and she died. To cope with his loss, the man turned to the outdoors. During his healing journey, he met a Paiute American Indian man who told him, "On any given day, there is both beauty and chaos standing together."
Today, there is both beauty and chaos standing together and we imagine you are feeling both.
Holly: You are probably trying to put a smile on your face because you want to welcome us.
Kaci: And we know you have been waiting so long for this day, for this fiesta. We all have.
Holly: Or, perhaps some of you are visitors and had no idea this church was getting new pastors today and you just needed a community in which to gather and to help you with yesterday, to tend to the beauty and the chaos of life.
Kaci: We also imagine you, like us, are wondering what if it had been us or our Wal-Mart? What if it was people we know? And for some of you maybe it is. How do we come here having felt such hope, having expected such a good day, such a fun day? How do we stand between the beauty and the chaos?
Holly: We run the race as it comes to us. Paul doesn't tell us its going to always be easy. He probably wouldn't have called it a race, a very physical metaphor, had he wanted to gloss over the chaos—our hearts racing, our muscles giving out, our feet on fire.
That's the race we are running together—that we trust each other with the beauty and the chaos of one another's lives, of the church's life, of the community's life.
Kaci: We as a church will see one another through death and sickness, through divorce and lost jobs. We will be one another's beauty when chaos wants to unravel us. But with God to guide our feet, we will stand, bound together in the greatest story of all time. You and I,
Holly: And I, are in this story together.
So, in this moment we wanted to take Paul's advice and lay some of weighty things aside but we are also going to talk about the beauty. We know you've heard a lot about why the PNC [pastor nominating committee] called us, but we wanted to tell you why we answered the call to you.
Kaci: First, we know you've been through a lot. We know you've had to step up as leaders and that many of you are tired. You're done running. We also know you loved and miss Jessica. And, we don't want to replace her. We want to continue the good work she did with our skills, talents, questions, and hope.
We also know you're taking a risk hiring a clergy couple, but also hiring a same-sex clergy couple. And, we know that maybe this wasn't the story some of you were hoping for.
Holly: We're taking a risk too and we're really excited about this risk. There are about a thousand reasons we answered this call but your true diversity is one of the big ones.
In fact, the two churches I served voted every which way and some of my favorite parishioners turned out to be the ones who thought they wouldn't like me. The people who didn't vote like me where the people who pushed me to be a better preacher, who made me see things in a whole new way, and who taught me what it really means to explore Scripture. Our differences in this church are an asset.
Kaci: Beyond your diversity, we love that this church doesn't just think church happens on Sunday morning. You know that Church is 24/7 and it shows in your food pantry, in your immigrant shelter, in your care for each other.
Holly: When we visited here, we even talked to complete strangers who knew about Grace and your work in the community. Check, awesome church.
Kaci: You also had a PNC that represented this church so well. The moment we started interacting with them, we knew they were dynamic, thoughtful, funny, hardworking, and obviously had good taste in pastors…
Holly: Through the PNC, we saw the passion this congregation has for people.
Kaci: We saw the potential to grow as a couple, as pastors, and as Christians here because we believe you will demand and deserve our very best.
Holly: We truly want to go on and on about the ways and reasons we love you and we will, but what had us from the start, was the way you describe yourselves, 'imperfect.'
Imperfect as any and every given day, the beauty and the chaos.
Kaci: Our new partnership is not going to make the world any less chaotic or tragic, the purpose of our partnership is to uphold one another, to remind each other of grace, and to point to the One who guides our feet on the course set before us.
Holly: And so as we run this race together, let us tell the story of a community who is not defined by tragedy and darkness, hate and fear
Kaci: but by a God who redefined death, so that even Death's story doesn't go as planned. And so, when the chaos does come to our lives as in did this weekend, may we respond as People of the Resurrection, trusting that beyond the destructive powers of this world there is a God charting an even greater course. A story unplanned. And a grace to see it through.
Amen.
(Sermon written by Rev. Holly Clark-Porter and Rev. Kaci Clark-Porter. Holly and Kaci Clark-Porter recently moved from Wilmington, Delaware to El Paso, Texas to serve as Co-Pastors of Grace Presbyterian Church. They both graduated from Austin Presbyterian Theological Seminary. When not writing liturgy, Holly and Kaci love to hike, camp, do crafts, and dote on their beloved pit bull, Hazel.)
Prayers of the People
St. Paul United Methodist Church
Rev. Cassie Noland Rapko
Atlanta, Georgia
[Before the following prayer was offered, the congregation observed a moment of silence and the tolling of the church bell for the victims of the shootings.]
Oh God of comfort and love, we come to you this morning, once again, too soon, we come to you as a country that is yet again the victim of hatred and violence. Once again we turn our minds toward the communities of El Paso And Dayton. To the needless and hateful bloodshed that has endured there.
We come to you as broken people oh Lord, we come to you in grief, in terror, in anger, sometimes even in hate. How does this happen? How do so many lives disappear in a spray of bullets? How can places of solace, learning, and entertainment become shrines to lives cut short? And we also wonder how hatred can enter into the hearts of your children lord, how racism, and white supremacy can take hold and destroy so much.
When will we figure out that we are all your children? How do we love in the midst of such hate? How do we go on in the midst of such violence. How does this happen Lord, and what are we to do?
We offer our prayer this day lord, as your weary children, longing for the Day when your glory will cover the earth as the waters cover the sea —the Day when perfect peace will replace systemic darkness; when the wolf and lamb will live together; when guns and knives will become tools for agriculture and harvest.
But until then, Lord, make us warriors of peace and agents of hope. Replace our frets and fears with faith and trust, patience and courage. We know that our labors in you, Lord are never in vain. Give us the courage and the perseverance to continue on Lord, to see your justice, and your mercy prevail.

Lord be with the families of the victims in El Paso and Dayton, be with the community, be with the perpetrators. Lord be with all those who are hurting this day, especially those in El Paso and especially those names we have lifted up. And Lord we lift ourselves up as well.
Help us to truly become instruments of your peace, to not shrink into the shadows and become cynical, fearful, hateful, or worse Lord apathetic. Break our hearts for what breaks yours. Help us discern what steps we are to take to put our prayers into action. Teach us to love, and teach and protect so that life is treated as the sacred gift that it is.
And so this day Lord we look to you. We know that the gospel of the kingdom will overcome. Jesus defeated evil on the cross, and we know that one day all evil will be eradicated. That Day cannot get here too soon.
Grant us wisdom and grace, to love mercy, do justice, and walk humbly with you, wherever you've placed us. We pray for the scores of families and friends directly affected by this tragedy. And we pray for healthcare workers and counselors, pastors, and neighbors—those who will offer redemptive presence and care. Grant them your compassion and strength. We pray, in Jesus's triumphant and grace-full name."